Interior design trends are constantly evolving, and each year brings a new set of ideas that can transform the look and feel of your home. In 2023 design is all about having fun, embracing playfulness through a refreshed colour palette and prioritising warmth, comfort, and relaxation.
Many of 2023's interior trends are driven by our desire to create a cosy cocoon-like feel in our homes. Whether we're designing a self-care 'spathroom', incorporating joyful colours, or opting for soft materials, the focus is on creating a space where we can truly unwind.
Dopamine dressing
Dopamine dressing involves using colour, patterns, and furnishings to inspire happiness. This can start with small touches like introducing a print or a coloured piece of furniture, or going all out with vivid hues like zesty yellows, punchy pinks, and brilliant blues to create a cheerful atmosphere.
Dopamine dressing forms part of the broader 'comfortcore' trend, which involves using joyful decorating and design to escape from the uncertainties of the outside world. A trend that could not be more relevant following a global pandemic as people look for ways to add fun and frivolity to their homes. The trend focuses on bold colours, eye-catching art, statement wallpapers, and mood-lifting accents to enhance the overall vibe of your space.
The 70s return
Taking inspiration from timeless mid-century modern design and the increasing focus on reusing rather than buying new, the world of interior design is turning to the seventies.
The concept of vintage is currently very fashionable. Interior design trends, like fashion, often repeat themselves, and the 1970s are making a comeback in 2023. You can embrace this trend by using warm brown, gold, and red tones as the base for your interior. Layering with similar colours and shapes can also make your space feel more appealing.
Relaxed seating designs with a 1970s aesthetic not only look good but they are also comfortable, often with a cocooning effect that can contribute to a warm interior. People are now looking for sofas with deeper seats to give a 'sink-in' feeling.
Comfortcore
Comfortcore is a design trend that offers reassurance and respite, with rounded forms, beautiful textures and soft tones.
Calming textures gained popularity during the stressful years of lockdown and have yet to lose favour. People want their homes to feel like tranquil havens, especially in the bedroom and living room, which are spaces that can be filled with plush, soft furnishings.
This means there is a preference for neutrals, including gold accents, warm wood tones, and cream sofas. 2023 is therefore the year for warm hues to continue to dominate over cooler colour palettes. Minimalism is also making a comeback, but with a more sophisticated and homely twist than before. Warm wood tones and natural textures will be ever present without compromising on the simplicity and cleanliness of minimalist styles.
Painted borders
Painted borders are an affordable way to experiment with a room's structure, and they allow you to experiment with different colour combinations. You can try a variety of painted methods, including colour blocking and stencilling, and can draw attention to unique alcoves, high ceilings, or even hide unsightly features like radiators.
Painting the ceilings or skirting boards with a unique shade is an excellent alternative to simply painting the walls. You could choose the same colour as the walls to create the illusion of more depth or opt for a contrasting colour for a cosier feel.
Heritage
Heritage design, originally seen in kitchens with features such as Belfast sinks, pantries and shaker cabinetry, is spreading to the rest of the home. It can now be seen in the form of herringbone flooring, wall panelling and scalloped edges. Designers say that this is due to the fact many vintage and second hand shops have moved their operations online, giving much more accessibility.
Drawing inspiration from vintage aesthetics, heritage colour palettes include hues like mustard yellow, postbox red, black and sage green.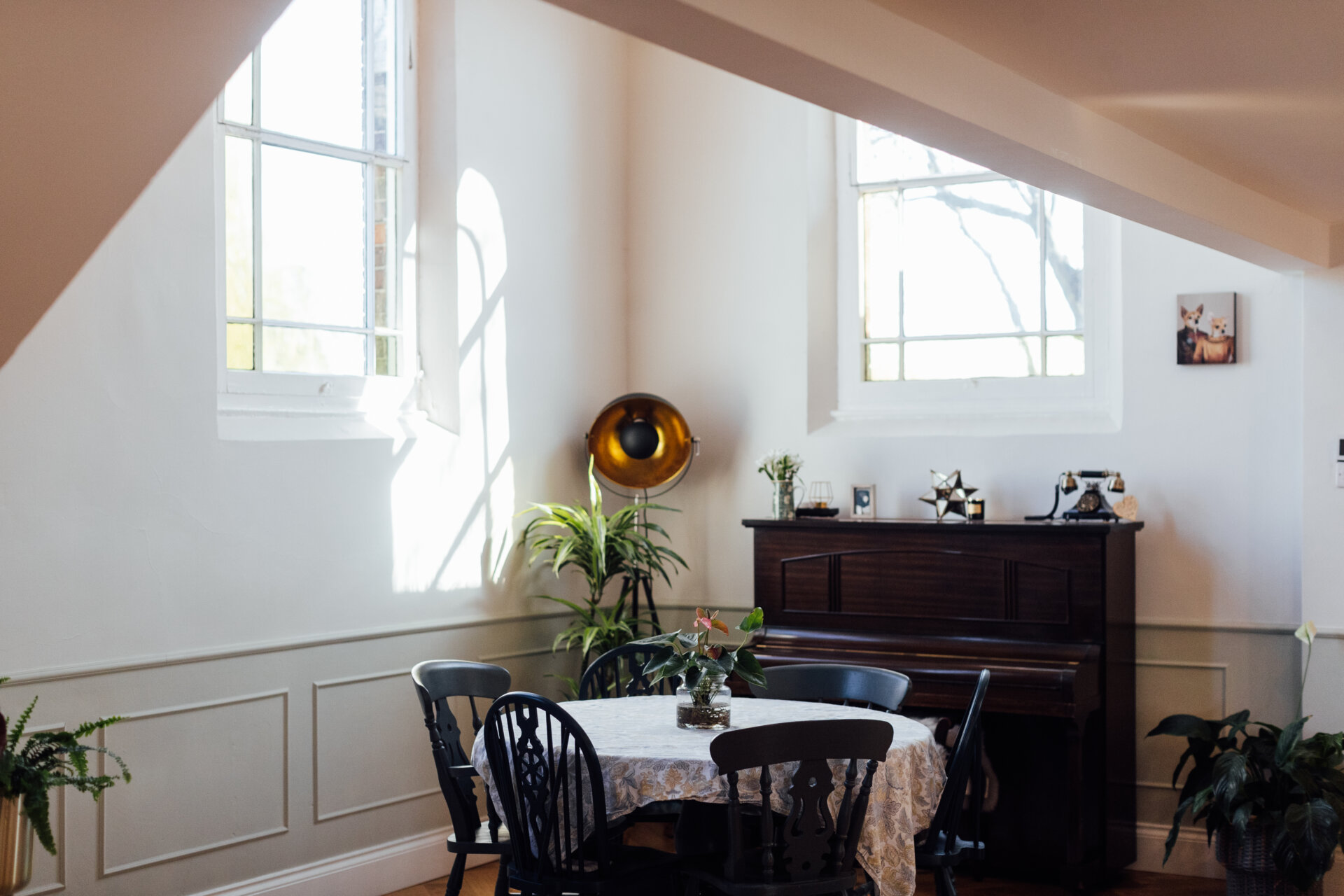 Spathrooms
The rise of small self-care spaces within the home has paved the way for the 'spathroom'; a bathroom trend inspired by the serene ambiance of spas.
Bathrooms are a ritualistic space and have become increasingly popular as private sanctuaries. To achieve a luxurious feel, designers are incorporating warmer textures and fabrics to balance the clear cut, clinical nature of the space. Outdoor fabrics are especially popular while scalloped blinds and artwork add softness to the room.