We've been speaking with Amy Applebee, a Senior Visual Merchandiser for Katie Loxton and Joma Jewellery, and the person behind @applebeehome.
"I design showrooms, shops and store windows, as well as styling and a bit of floristry for press events and photoshoots. My husband James and I are just about to have a baby boy, due in February."
Originally from Rugby, Amy lived in London for 10 years after studying Fashion Design. James is from North London and owns a carpentry and joinery business.
"After moving back to Warwickshire from London, I find Warwickshire wonderfully peaceful and unexpectedly rural. Pretty much wherever you drive you're only 10 minutes away from the countryside."
Amy has always been super creative, and she was initially more interested in fashion than interiors, so she pursued a career in that industry. As Amy got older and moved in with James, she discovered her love for interiors whilst giving their own rented houses and flats makeovers. Then after working for home interior brands including The White Company, Amy decided to venture out and do her own thing.
"I opened up a mid century modern interiors and furniture pop up shop called Applebee House. Unfortunately, we had to close down when covid hit, but I really loved working for myself and selling a product that I curated."
Amy & James bought their house in September 2021; a period property that they would renovate themselves. Having bought the property, the pair were not able to move in until November 2021 because of work that needed to be done before it was habitable. Then, after moving in, the house began to reveal more and more problems, meaning every room had to go back to brick. Pair this with the prices of building materials creeping up just as they started the renovation, it has been far from plane sailing.
"We have pretty much finished the main jobs inside, we're planning on doing all the external work this year (2023). The house has a decent amount of space outside and we hope to add a double story extension to the side and also extend off the back in the next couple of years."
Despite all of the challenges, Amy & James have spared no expense in getting their home exactly how they want it. And now they have a home where they can look back and say 'we did that!'
But how do Amy & James go about planning their renovation work?
"After lots of previous projects, we are now like a well oiled machine. We plan out jobs as if it was for our actual work. I (Amy) come up with a concept, moodboards and space planning, then James tends to execute. I will help him wherever I can – it's definitely getting harder at 8 months pregnant though!"
"I like to use the red thread rule in my home. Most rooms will have green, orange or blue items in them which helps make it all look cohesive."
Amy has collected a lot of items over the years that she takes from house to house. This means not only is their home aesthetically pleasing to look at, but each and every piece has its own story and means something to both Amy & James. It makes their home even more special and instantly gives it a homely feel.
Amy has many favourite parts of their home, so much so that she wasn't able to pick just one favourite when asked too, so here's her top 3.
1. The kitchen.
Bought for £400 on eBay, the listing included everything from the ceramic sink to the rangemaster cooker. James worked his magic and made it fit seamlessly into their home, with it now looking like a specially constructed, bespoke kitchen.
"I remember when we got it home I measured all the units and appliances and then went straight to work on CAD to make sure it would work! I had already been making kitchen Pinterest boards long before the purchase, and because it isn't a massive space I wanted to make sure we utilised every nook and cranny, all whilst not compromising on design."
2. The parquet flooring.
After being quoted upwards of £3,000 by a tradesman, Amy & James decided to do it themselves, turning to their old friend, eBay. This was a true labour of love.
"After having to go and literally rip the flooring out from the sellers house, we went on to spend every evening (outside in the middle of winter!) for about 5 weeks cleaning each individual tile. We then laid them in the herringbone formation and began to sand and seal them. It was a lengthy process but the outcome was beautiful."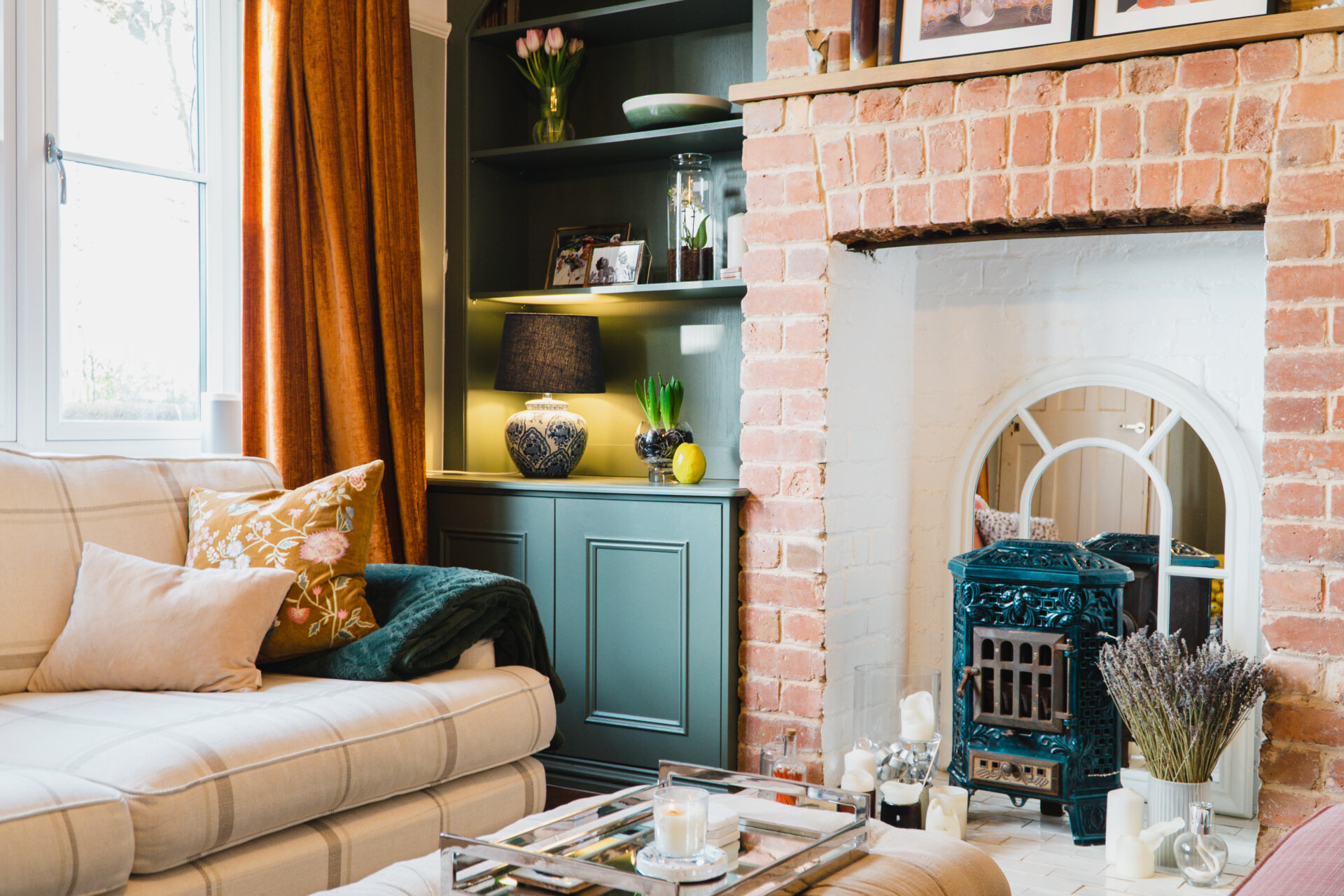 3. The downstairs fireplace.
This was a complete surprise for Amy & James. After removing an old boiler, they discovered that they had a wonderful brick fireplace that had been covered up at some point in the past.
"James had a lot of work on at the time, and so I restored most of the fireplace on my own, including doing the tiling. That was a proud moment for me; to complete a reno job by myself."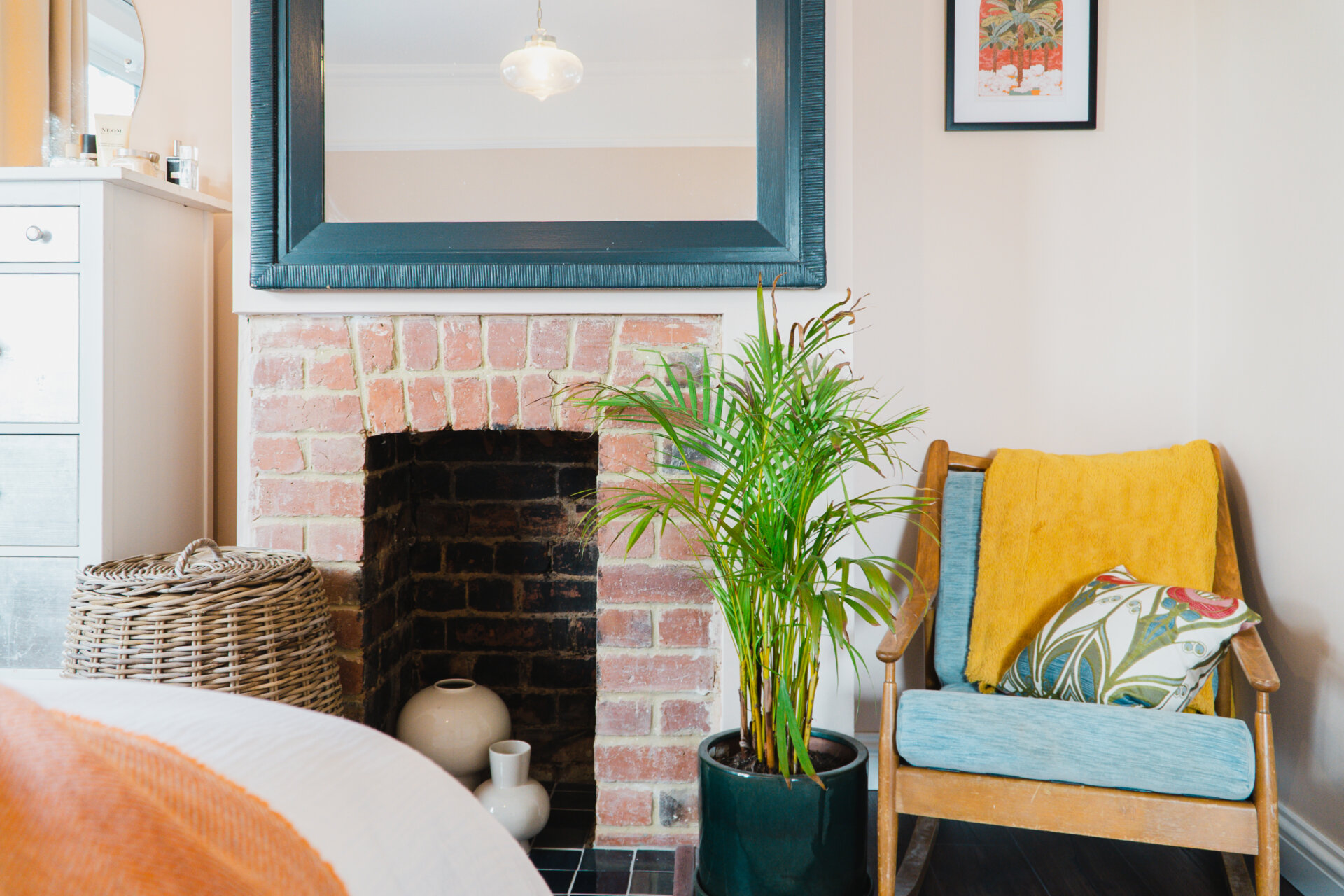 Amy & James's home is beautiful, so we were keen to understand where they get their inspiration from. Along with the usual Instagram and Pinterest profiles, Amy works a lot in the Lake District and so often stays in old, renovated Edwardian and Victorian airbnbs that give her inspiration to take back to her own home.
"Some of the designers I love are Matilda Goad, Octavia Dickinson and Lucy Sear-Barlow. I just love eclectic styles with vibrant colours and homey vibes."