Hortons speaks with Kayleigh and Luke of @building_the_dream_2016 about home renovation and having confidence in DIY.
"We both grew up in Leicester, myself being from Botcheston and Luke from Braunstone."
Kayleigh, one of six girls, has been a bookkeeper for a small accountancy firm in Nuneaton for the past 8 years.
"Luke has always been good with his hands and obsessed with fixing things, which has led to him following his dad's love of cars into his current job as a mechanic for Royal Mail."
Luke started as an apprentice mechanic for Royal Mail aged 18 and is now a manager.
"I was always a bit of a party girl, I loved to be out socialising."
"That was until we bought this house."
Since purchasing their home, Kayleigh has become obsessed with interiors and anything home related.
The couple have been together for nearly 13 years and purchased this (their first) home 5 years ago.
"Leicester Forest East was our first-choice in terms of location as Luke had rented here for a number of years and we have spent many evenings together in the Red Cow pub."
Once both Kayleigh and Luke decided to save for their first property, they rented a small maisonette for 18 months to give them a chance to save for a deposit.
"After receiving a mortgage in principle and having saved our deposit, we started looking at properties."
The pair soon came to the realisation that LFE was a little out of their price range so they began searching elsewhere, keen to move on from renting.
"We attended lots of viewings but struggled to find the right house for us."
Kayleigh and Luke have proved that finding the perfect home takes time, but it is important to be patient and continue to search far and wide.
"Luke stumbled across a property in LFE that was priced higher than our mortgage in principle, but had been on the market for nearly a year."
"We pretty much fell in love with it the moment we stepped through the door, a true family home with bags of potential."
"However, we had not realised how much work the property needed as we had nothing to compare too."
Kayleigh and Luke then opted to see a different financial advisor, having managed to save some more money over the time that they had been looking for the right property.
"He made our dream come true, showing us how we could actually secure a mortgage on the property."
"It wasn't until we got the keys (many months later) that we realised a full renovation was now on the cards with barely any savings to pay for it."
Even though they had a mid-range survey that suggested a few issues, the couple wanted this to be their forever home and so they decided that they would renovate to an exceptional standard.
"Not many weeks had gone by before we had a new roof, all of the windows and exterior doors were replaced within a year and only two original ceilings in the house survived."
Kayleigh and Luke decided to take all of the downstairs back to brick and also skimmed the first floor.
"We were lucky to have a family friend assist with the electrics, and Luke was able to learn along the way."
"When having a new boiler fitted, we were advised the heating system would need upgrading in the coming years and so it seemed silly to cover all the existing pipes only to rip it all out again in a few years."
Luke therefore managed to understand the basics of how a modern central heating system works, and then re-plumbed the entire house himself.
"Obviously, the boiler was signed off under the correct regulations, but Luke did the rest!"
"The back garden is our favourite part of the house so far, it just gets more extravagant each summer that we spend here."
Despite the house being tastefully renovated and decorated, both Kayleigh and Luke confess that they have never really sat down and completely designed any part.
"We have initial ideas for a space and then the rest just flows from that."
"With the garden, we knew that we wanted a large decked area at the top end for a hot tub, then after stumbling across Dunster House we added a gazebo, which we completed just in time for my 30th birthday celebrations."
In the space of just 9 weeks, an area was transformed from a patch of uneven slabs to a full wrap around decked area with a wooden gazebo and hot tub.
The work was all carried out by themselves, alongside managing full time jobs.
"The following summer, we decided that we wanted to start on the bottom half of the garden."
Due to their new addition Frank the boxer dog, the couple opted for artificial grass.
"The ideas then flowed to the fire pit area and then, COVID-19."
With pubs and bars being closed due to the UK lockdown, Luke decided that he was missing draft beer.
"Although it did take a little longer due to Luke working throughout the pandemic along with trying to source supplies, we had our own bar built from pallet wood with beer on tap just in time for the second lockdown."
To allow them to carry out the majority of the work, Kayleigh and Luke have learnt to do most things themselves with professionals only being called in if it is essential to do so.
"We have saved a lot of money by doing it ourselves and upcycling things."
Upcycling has been a major factor in achieving their dream on a budget, managing to purchase their oak kitchen from eBay for just £200.
"My ability to find a bargain and Luke's pallet wood creations have both saved us a lot of money."
The couple haven't lacked confidence to try something new, for example re-plumbing their house single handedly.
"A lot of things are easier than they initially look, it just takes some graft!"
Kayleigh also mentioned that there were some tough days where there seemed to be no end in sight.
"It's hard to carry on pushing when everything is covered in dust, even the dog!"
"It's taken us five years to get to this point, which seems a long time when you compare it to the fact that people can have an extension completed in a few months, but we've done pretty much the entire renovation ourselves on an extremely tight budget."
When choosing a tradesman, Kayleigh and Luke suggest asking friends and family for recommendations and also getting a couple of quotes can help make a more informed decision.
They also recommend avoiding setting unreachable targets as there are always going to be set backs, extra costs and extra jobs.
"It's too easy to feel deflated when things don't go your way, concentrate on the little wins and have a go at jobs that you can do yourself."
"There is nothing better than stepping back and being able to say 'we did that'."
Kayleigh and Luke started @building_the_dream_2016 to document their journey and gather inspiration, not realising that four years later they would still be renovating!
"Instagram has been a welcomed escape over lockdown."
"The renovation community is so supportive and it has been nice to get to know people, pass on knowledge, find inspiration and discover amazing small businesses along the way."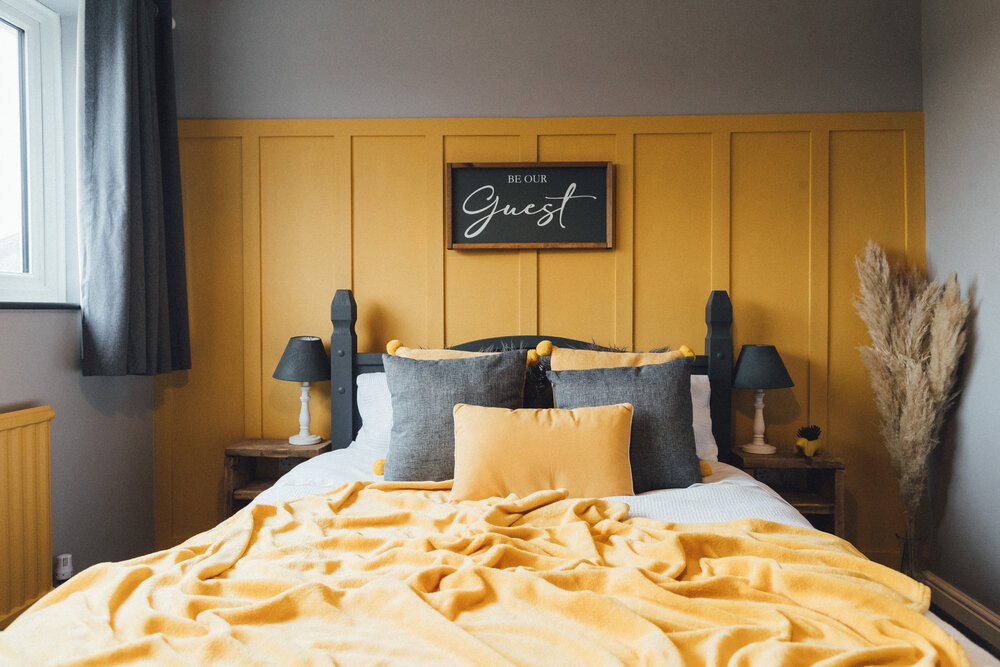 "@lovecratesigns has become a slight obsession for us over the last few years, as every time a room reaches completion, we seem to purchase another sign (or three!)"
Last year, Anna (owner of @lovecratesigns) made Kayleigh and Luke brand ambassadors, which they consider a great honour having watched her business grow over the past few years.  
"We have also had the pleasure to work with @franktasticdog where owner Stacey makes dog collars and accessories."
The followers of @building_the_dream_2016 have fallen in love with Frank, and Stacey now employs Frank as one of her brand models. 
"We hope to carry on with our account to share knowledge and continue to document our journey."
In terms of the future, Kayleigh and Luke are planning more renovation work.
"At this point, we have the ground floor and first floor completed along with the back garden, and we still plan to renovate the loft into a master suite with en-suite and walk-in wardrobe."
"We also want to convert the garage to a second family room plus downstairs toilet, then build a detached garage on the front of the property once the money tree grows."